A Good Case of the Blues- Tree Orb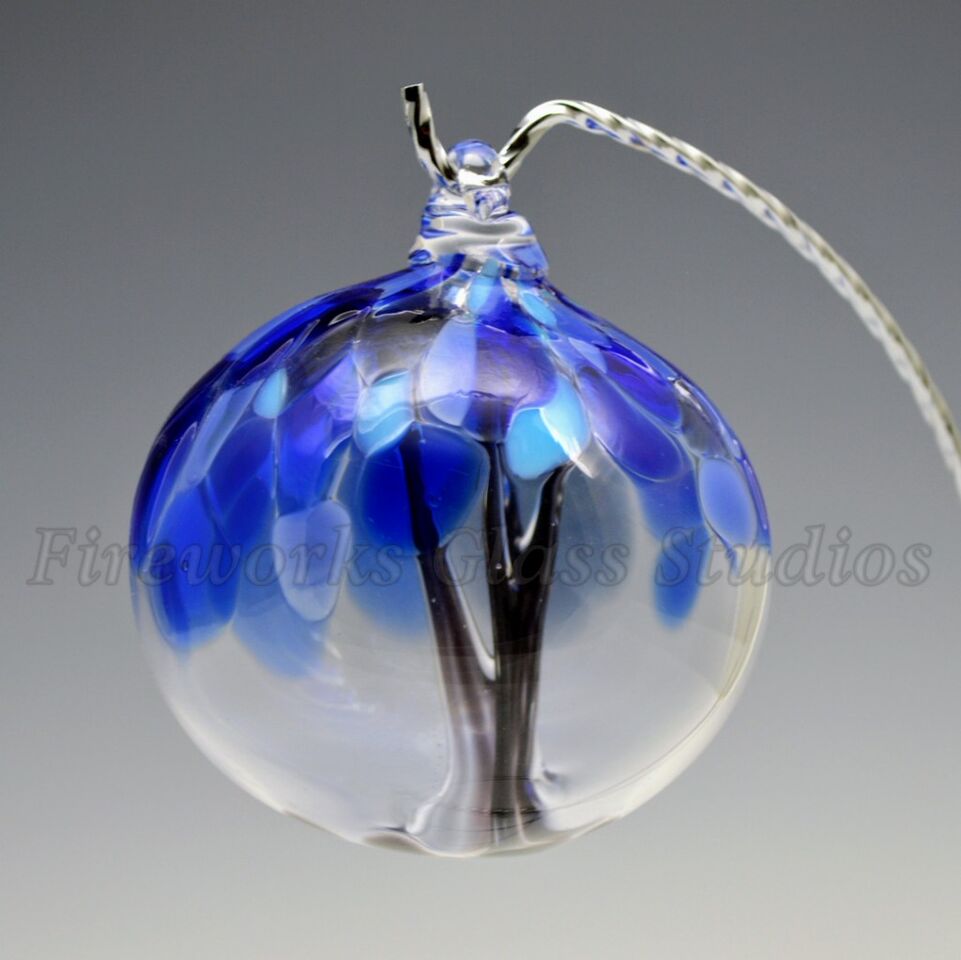 A Good Case of the Blues- Tree Orb
Designed and made by: Artist Rhonda Baker
Description: Hand made, glass- blown Tree Orb, historically made to protect your home, with the threads of glass trapping evil spirits and spells that a witch might cast.
Please note:
This item will vary approximately in:
5-6 ounces in weight
2-3 inches in height
2-3.5 inches in width
No two items in this store are exactly alike. Since this is a glass blowing studio, and each item is made by hand, there will be slight differences in size, weight and design.
(We are not a factory.)
Thank you for your understanding.
Note from the artist:
Rhonda Baker has had a witches ball hanging in her house for 9 years, and never had a witches spell cast on her home. However, her husband still makes it through she says.
Tip:
If you are wanting to give this as a gift, we recommend adding one of our ornament stands for $3.00 extra to hold up the ornament as displayed in the picture.
(See "Extras" in our Collection Categories)
The Story of the Tree Orb
Having its origin in Medieval Europe over 600 years ago, the Witch Ball has developed a fascinating body of legend and folklore about its magical properties and appropriate uses. Alternatively known as Spirit Balls, Fairy Orbs, Pond Balls, Good Luck Orbs, Gazing Balls, to its current common reference Tree of Life Globes. The common thread linking these beautiful handcrafted items is their ability to confer protection on their surrounding area from any evil spirit and negative energies or spells that might be cast by malevolent entities.

Some legends say that a witch would see her reflection in the surface of the globe and be frightened away. Other interpretations say that witches and imps are mesmerized by the beautiful color patterns, and are drawn into the interior and along with any of their evil spells, are trapped for eternity.

Here at Fireworks Glass, we like to think of these beautiful creations as a Tree of Life Globes. Representative of the beauty of life, nature and a wonderful spiritual enhancement for anyone's living space, whether inside your home or out. Rhonda Baker, our primary glass blower creating each unique piece, has developed techniques and color palletes that result in fascinating and charming glass.
Whether you choose to give them as gifts or keep them for yourself, we hope you enjoy having them as much as we enjoyed creating them.
Thank you,
Fireworks Glass Studios